Interview


Time: September 23, 2008 (2~5pm)
PlacE: Ned's Studio in Jones Street and Shop in Washington Square Park
Equipment: Canon 5D with 16-35mm 2.8 Lens
Photographs and Interview by Noa Baak (Goseong Choi in assistance)
References:
1) Peddling Images of a Lost City by Bernice Yeung on New York Times, August 13, 2006
2) Part IV of Crossing Brooklyn Ferry in Walt Whitman's Leaves of Grass, 1855
3) He'll Be Around by Stanley Crouch from Ned Otter's CD The Secrets Inside, Two and Four Recording Co., 2002
4) Interview with Bob Dylan by Jim Miller, 1965
5) 1st few lines from Allen Ginsberg's Howl , 1955
6) Bohemia Recycled by Bonnie Resenstock on The Villager, 2007
7) Café Wha? on Wikipedia
8) Photograph by Robert Otter, courtesy of Ned Otter

9) Waltzing Westward from Ned Otter's The Secret Inside, Two and Four Recording Co., 2002
10) Robert Otter homepage http://www.robertotter.com/

* all photographs are to be clicked & resized.


The Guy Who Represents Old Man's Photographs

Probably it was not the first time for Ned Otter to be interviewed. In fact I am sure it was not the first time as I have read an article about him on New York Times1) last 2006, which portrayed a story of a person in this most loved park of the city carrying a cart-ful of old 60s' Washington Square and Greenwich Village images in prints. That being said and true, I however found his story more of personal dialogue between a son and a father, between now and then, and between coincidence and fate. I put a son's name first because the whole thing started from the son's journey back through time.

The Story Begins Now, Then Goes Back to 1960s
Robert Otter, Bleerker St. Cinema, New York, 1960 8)
What is it then between us?
What is the count of the scores or hundreds of years between us?

Whatever it is, it avails not - distance avails not, and place avails not,
I too lived, Brooklyn of ample hills was mine,
I too walk'd the streets of Manhattan island, and bathed in the waters around it,
I too felt the curious abrupt questings stir within me,
In the day among crowds of people sometimes they came upon me,
In my walks home late at night or as I lay in my bed they came upon me,
I too had been struck from the float forever held in solution,
I too had been receiv'd identity by my body,
That I was I knew was of my body, and what I should be I knew I should be of my body.
- Walt Whitman 2)

I remember the first time seeing Ned; rather good-natured looking guy behind a loadful cart of black and white photographs. Aren't I a huge fan of black and whites! In fact I have a book published only with black and whites.
I approached him. It was probably me or my Leica that caught his eyes. Well, I bet it was the latter since he did not know me then. I handed my Leica in his hand and let him have it for a while (later he told me he called his friend and talked about gracious moment of Leica-holding!) That was our first meet and it was about a year ago.
What fascinated me was the SINGLE fact that the son is representing old man's photographs.
That says it all. What possibly could be more fascinating than this;
Time passed by, yet still lingering in his hand,
And the son strolling through allies of Greenwich Village where his father Robert Otter wandered.
What was it that Robert looking for?
At least I know what Ned, his son, is looking for; it is his father Robert.
Trajectory says it too. Though I only spotted Ned in the Washing Square Park, I found out from interview that he travels to three different areas in town; Washington Square Park, Bleeker Street, and Meatpacking district in Chelsea. Why these three areas? Surprisingly because those were the places in his father's photographs!
In another word, Robert is still lighting up the roads for his son Ned and tells him where to go every day.
(I told him that he would guess who lives at the east end of Bleeker Street.)
Roads walked by are the roads that we should walk on.
There we would tread true sadness. Only there we would walk over missed memories, passionate hearts, and helpless hopes, all we ever needed. I remember my days in Paris when daily routine walk over St. Michel through Jardin du Luxembourg filled me with undescribable excitement that I walk where Hemingway, Sartre, Barthes, Miller did (the list sure goes on). But what about the road your own father walked!
I should confess that this special dialogue between Ned and Robert made satori, 'a tiny shock' in the chest and pierced something deep within me. Yes, I do not have optimum father-son relationship myself. Actually it is one of worst, where there is no talk, no contact whatsoever for some dozen years. Then I see a man standing here in the park, representing old man's legacy 24/7. Who would carry my photographs, walk where I was? Hopefully some strangers among my readers but obviously not from my own blood line.
The Kind of Person He Is
(Quite contrary to me), Ned is a healthy man; by Healthy I mean he diligently participates into series of valuable acts. When we sat down in his studio in Jones Street, I made an imaginary diagram of what his life is about;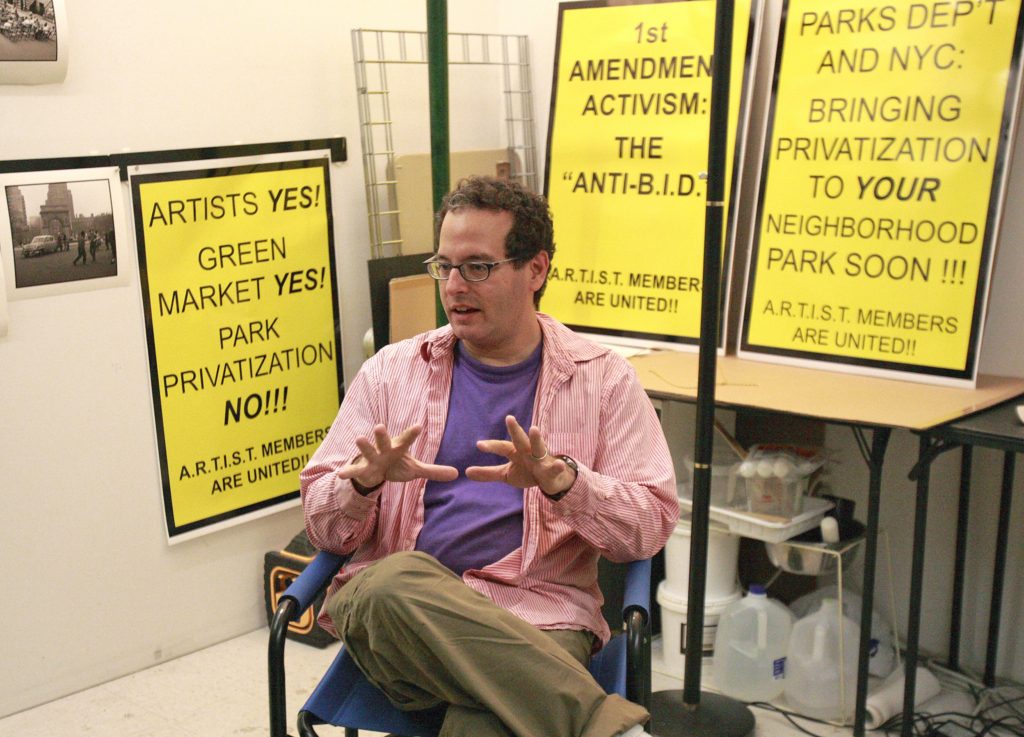 - NOSTALGIA BONE

He defined himself as 'nostagia bone', someone who goes back through time. He collects old photography books (one of them was printed in the 60s with price tag of only $1.40!). He goes back through family gynealogies. He enjoys flipping through various literatures including magazines, newspaper, music, and books.
This must be a great talent and something you should be born with. One grand project was about his own father and family. When I asked about his heritage, he told me that his ancestors came from Eastern Europe, father side from Russia and mother's from Odessa (current Ukraine). He is Jewish by belief but in fact he is irreligious. However it was not all writen in the first place as Robert, his father, found himself adopted at the age of 48. I am sure there must have been strenuous search for the roots since.

- ACTIVIST

He fights for artists' rights, simple and clear.
When I first stepped into his studio, I saw as many slogan boards as photographs. Along with father's photographs, these banners cover big part on his shop. Banners bear specific message and they hit you strong. For example, a banner says 'Alan Gerson is an enemy of Arts'. Alan is a city councilman who makes policies of arts and Ned claims he takes advantage of arts for personal reasons. Funny enough, he lives only a few blocks from Washington Square so the chances are he might have seen this banner himself!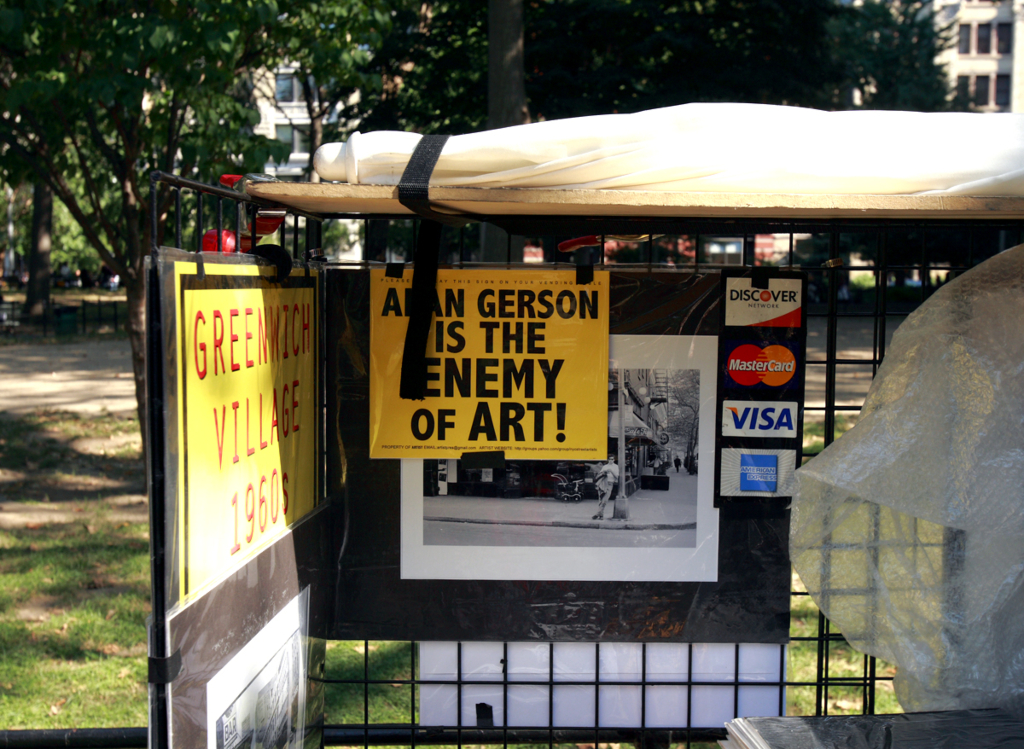 Ned said that he carries a piece of law. It is because of ignorance and molestation by authorities such as police officers and park supervisors. For example, police would come and accuse him set up within 12-ft distance from doorway without even measuring it, or park supervisor comes and asks for license to sell these while there is no such license in existence. For this reason, he also carries a video camera and whenever those bullies approach he turns the camera on and record so he might use for the court later. Then he says,
"What can I do for you, Officer?"

- ARTIST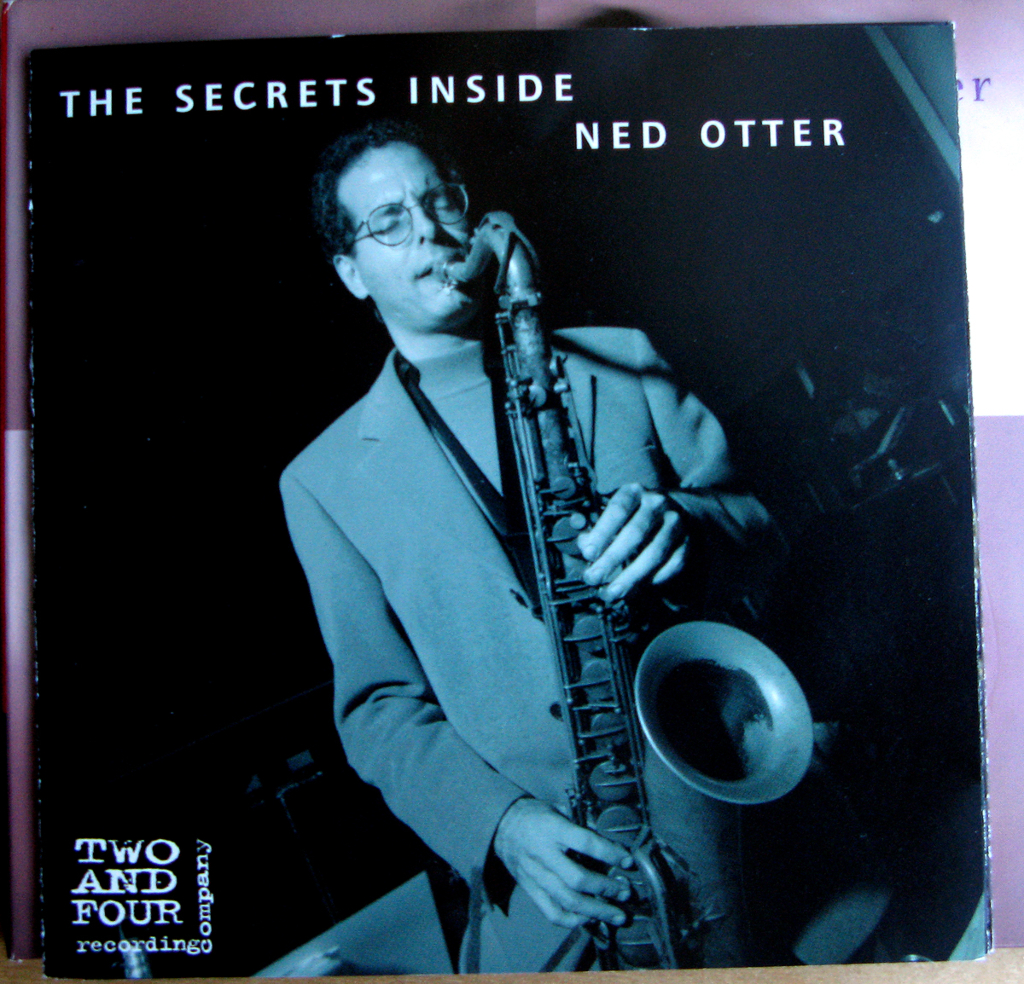 Ned Otter's album The Secrets Inside, Original photograph by Jimmy Katz, courtesy of Ned Otter

Ned is an excellent musician, a Jazz saxophonist to be specific. I did not know that until I played the CD he handed me. It turned out he used to play with big names such as George Coleman and Dizzy Gillespie for years. He says, "I have obviously spent a lot of time listening to George Coleman and talking with him over the years and had the very good fortune to be in the right place to keep learning from him" Over those precious years, he learned to how to fill the bar up with plenty of notes while having all the harmonic resources under control at the same time3). As a matter of fact, I must have listened to this tune when I was subdued into Dizzy Gillespie All Star Band's 'Con Alma'. I wonder if Ned was one of those stars on stage then.

Playing and staying with master is certainly one of rare chances for anyone and you'd be in the right place in the right time. Yet not many people realize how fortunate they are even when they are with the great minds. I would say to my pupils, "A conversation is a good precious opportunity". Unfortunately they are mustered with short-term goals or ideas of a trick or two. It is a shame they miss out the whole chunk of spirit. Some of them are either born with no talent or have no attentive minds to pursue the essence of life. Mostly they fall out or digress within a year.

In that sense the pupils should have great minds in the first place to find One.

Being an amateur photographer himself, Ned requested (before our interview) that he would like to trail me when I go out for photo-shooting and learn from me. Now, I am not sure what I have but whatever that is, I know Ned being a shrewd learner as he is will find that out.




(You can listen to his tune at http://nydialogue.tistory.com/58)



Setting up the Shop

Here comes the magic part. How fast can you set up a shop? Ned says 'in 10~15 minutes.'
This seemingly easy process however results from three years of trial and error.
This is how;

- First of all, he prepared photographs in three different sizes; 5x7' in 8x10' frame, 8x10' in 11x14 frames, 11x14 in 16x20' frame. The price goes from $25 to $50, and $75 for the largest size. To do this he has a large format HP digital printer in the studio. It can virtually print up to 44 inches wide.




- He has a motor-driven cart. He handles motor with lever in his hand. You might think that you can just pull but they are heavy. In fact most of the carts that we see in the streets cost over $3000 just to set up. Ned downsized the size and the cost to $1,800. Oh, we are not to forget florescent vest and the blinking light. This is New York.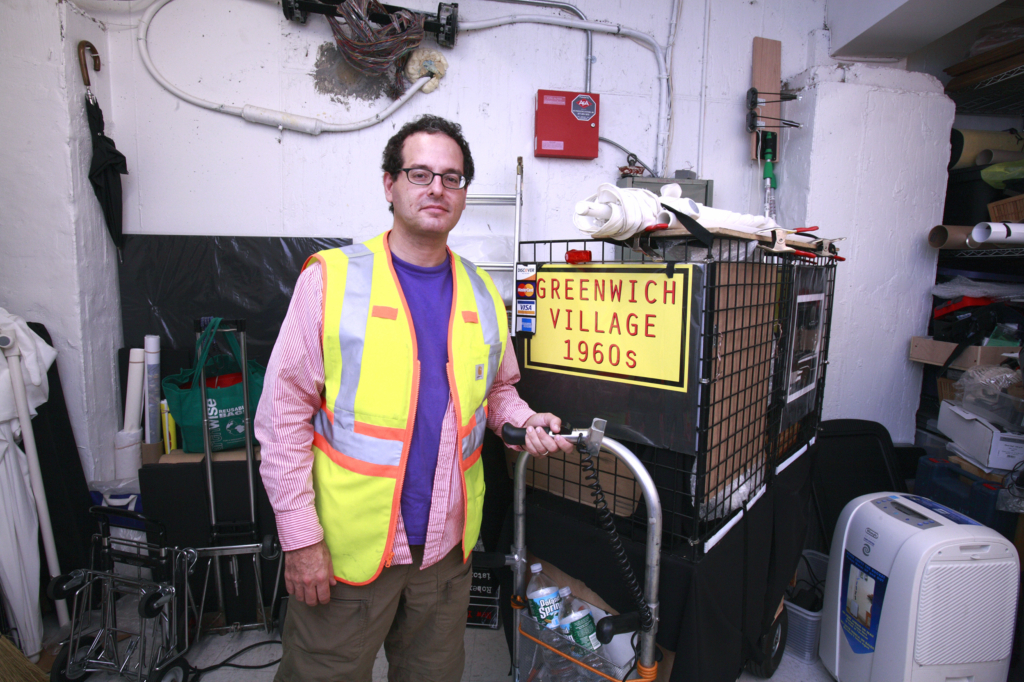 - Here comes the travelling. It takes about less than 5 minutes to stroll by from his studio in Jones Street. Quite a short walk but he has one big 7th Avenue to cross by. With his left hand on power lever, they both move quite smoothly.


- Once arrived, it is all about flipping out the wing, get the preset banner and photographs in right place. He does not forget to take wireless transaction machine either. Quite surprised that you can use your credit card for this. Ned takes out his director chair and sits on it comfortably. Only a minute passed by, there are already people who came and looked through photographs. Ned throws jokes saying that it is me who brought luck so to stick around. For every single customer, Ned advised to look behind the photographs for details. Obviously it helps understanding what it is about.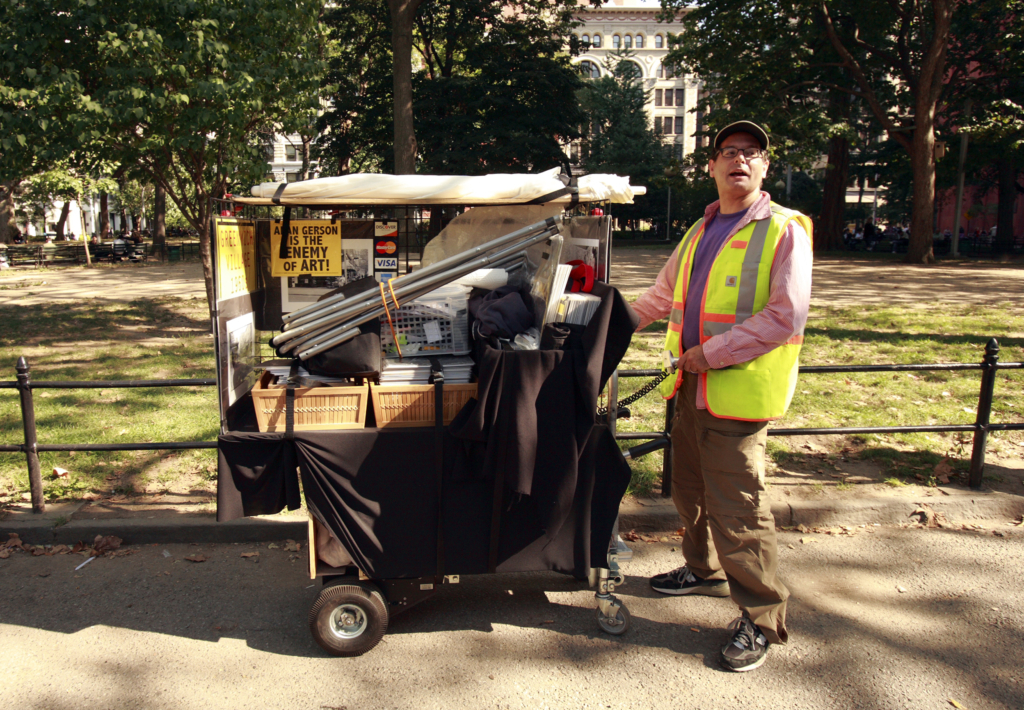 It has been a while since Robert's roamed Greenwich Village and most of the places look no same.
However many of the people in Robert's photographs in the 60s are still residing in the neighborhood only a bit older and a little grayer. By the time Ned shows me the 2nd old book about Village, a gentleman in yellow shirt came by and picked a photograph. And he picked a big size! He said this was the place where he and his wife kissed for the first time. So Robert's time lingers not only with his son but with many people in the hood.






I think It is marvelous that he makes a living off selling his father's old photographs.
How many man can live in Soho, have a studio, and a shop at the same time. And he is not even a professional photographer! Although he said he was lucky to have met his wife who had an apartment at Soho, this earning is not something to laugh at, and actually it makes 90% of what he earns.

Tactics are quite simple; selling the images of a lost city about 40 years ago. We see that in old masters' photographs such as Eugene Atget's or Alfred Stieglitz's. By looking at old photographs, we see another world, similar looking people with different values. After all, Time proves the best seller of all. Standing behind this time capsule, Ned is either reading historical literature or ready to share his conversation. With diverse background as a musician, computer programmer at Wall Street in the 90s, artist activist, he is a smart talker and knows how to lead the conversation.

1960s & Robert Otter's Photographs


(Here are four photographs of Robert Otter's from 60s. Click on both side to flip through,)




Robert Otter, courtesy of Ned Otter

Perhaps it is worthwhile looking into the period where Robert was photographing so diligently. John Lennon once said that he regretted not having born in Greenwich Village. But at least he kicked ass in the 60s. I would say I must regret missing out whole 60s. It was the time of turmoil and chaos, but also the time of romance as true romance is only born in the trenches. When Bob Dylan said in his 1965 interview, "Folk music is the only music where it isn't simple. It's weird, full of legend, myth, Bible and ghosts..Chaos, watermelons, clocks, everything…"4) it was this sense of strangeness and out-of-time otherness that Dylan was talking about the time he was living in. The time was strange, and all mixed up and swirled up in multiple layers; war and peace, hate and love, morals and hippies, capitalism and communism.

It was a Time-a-Changing; there was the advent of TV but also the loss of identity. The search for it was represented through all areas of literature including Jack Kerouac's Beat Generation, Allen Ginsberg's Howl, Warhol's silk prints, Bob Dylan's folk songs.
I saw the best minds of my generation destroyed by 
madness, starving hysterical naked,

dragging themselves through the negro streets at dawn

looking for an angry fix,

angelheaded hipsters burning for the ancient heavenly

connection to the starry dynamo in the machinery of night,

who poverty and tatters and hollow-eyed and high sat

up smoking in the supernatural darkness of

cold-water flats floating across the tops of cities

contemplating jazz,…

- Allen Ginsberg 5)





Robert Otter moved to Greenwich Village in 1960. The ex ad agency art director somehow decided to become a photographer and opened a freelance photo studio on Sixth Avenue between 36th and 37th Street. I guess this also was the trick the 60s put on. How can you NOT photograph 60s? For 10 years from then on, he lived a life of photographer, what Ned called 'my father's happiest period'.6) Unfortunately after a decade, Robert had to give up photography and become a real estate supervisor for various firms to support his wife and three children, just as Ned would have to work for computer programmer later for 10 years to support himself financially.

Like father like son, but in fact aren't we all?


Robert left behind about 500 sheets of negatives with 1 or 2 rolls of film in each sheet. Ned has 250 photographs in his online gallery and sells 150 at his mobile one. From what I see, Robert's photographs have something else than these throbbing social changes or beatniks as described in Ginsberg's poems. Instead projecting emotions the photographs show rather calmly nostalgic and descriptive of scenes. There are images of late-night shoppers at the Original Baldacci's, the famous Eight Street bookshop, beloved Bleeker Street cinema(closed in 1990), Café Wha? on MacDougal street, and the meat-packing district long before it was transformed into a club and restaurant hotbed. (Cafe Wha? was a club in Greenwich Village in Manhattan, New York City that has been home to various musicians and comedians. Bob Dylan, Jimi Hendrix, Bruce Springsteen, The Velvet Underground, Kool and the Gang, Peter, Paul & Mary, Woody Allen, Lenny Bruce, Joan Rivers, Bill Cosby, Richard Pryor, and many others all began their careers at the Wha? During the 1960s, it was owned by Manny Roth, uncle of David Lee Roth.7)




Then I carefully imagine Robert had discreet personality; shy almost, so he would stand outside café Wha? and photograph from a distance not to disturb anybody. The photographs consistently show some distance from passers-by and therefore become more picturesque. Seeing the photographs, it feels like I am viewing the separate reality, free from emotion, free from ongoing struggles, and even from social changes.
To my eyes, the photographs and the people walking inside alike look quite peaceful.




Beautiful Relationship



People say 'We all live once.' Maybe that is not true.
Life is about three things and it always has been; to be, to feel and to believe.
All of these can be passed down and lived by the ones coming. Ned has got that passed down on from Robert.
He feels his father's presence every day, if not every hour. It is like Ned is living Robert's happiest time once again. He is a Happy Macbeth diligently wandering Greenwich Village.
Life has a meaning if you choose to give it one. Robert chose one. So did Ned.

Isn't it fortunate that Robert and Ned stay in the same neighborhood, in the beloved Greenwich Village.
There we will witness Robert's love for people and Ned's love for old man.
There I will see Ned stationing his motor-powered shop and get ready to meet with you.
Then upon any authorities' coming, he would wear his video camera around his neck once again
And say "What can I do for you, officer", which will make me laugh out loud.
In fact I will laugh until I cry.
TAG
black and white photographs
,
Bleeker Street
,
Goseong Choi
,
Greenwich Village
,
Jones Street
,
Ned Otter
,
New York Dialogue
,
Noa Baak
,
Robert Otter
,
sajinsukje
,
Washington Square Park
,
박노아